.......... .......... .......... .......... .......... .......... ..........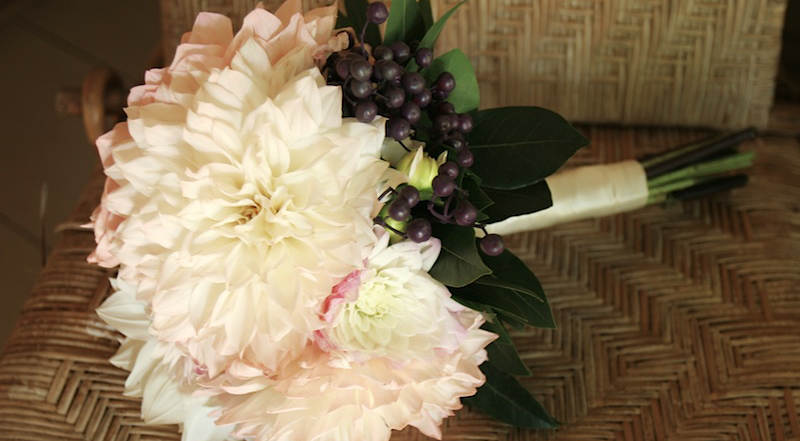 White Flowers: Wedding Floral Designs
White was the most requested flower color for 2010 weddings and continues to be strong in 2011. Mixed white tones make a stunning bouquet. Over the past year we have designed many white bouquets for brides using mixed white flowers in a collection of subtle white tones, mixing cream, ivory, white, blush, and white flowers tinged with green, yellow or pink. It is a classic look. You cannot go wrong with this approach. The bridal attendants carry flowers colored in a bright mix of jewel or tropical bright tones, or single color bright flowers such as a deep jewel toned magenta. Another popular choice for the bridesmaids are green flowers mixed with some of the same white flowers from the brides bouquet.
Tiffany: Mixed white bouquet of peonies, hydrangea, freesia and white orchid with a pink center. Her bridesmaids carried a mix of colorful flowers.
Kate: Rustic bouquet of spring blossom branches, ranunculus, freesia, stock, lysianthis, and green orchids tied with rope
Amber: She used white tones throughout the ceremony and reception with yellow accents on the tables and white orchids on her cake. White orchids, white roses, and freesia are used in her bouquets.
Stacy: Her bouquet is packed with stephanotis, gardenia and other small ivory and white flowers. Her tables and canopies use phaleanopsis orchid sprays, white and pale green roses, accented with green flowers, such as green orchids and hydrangea.
Dana chooses all white for everything except her bridesmaid's bouquet, tables, cake and accent flowers in deep vibrant red. Her bouquet is a mix of white peonies, white orchids, gardenias and blush roses.
Narelle wanted all white casa blanca lilies for her bouquet, white leis for groom and guests, and white orchids for her hair. Her table featured bright tropical flowers as a contrast to the all white ceremony.
Susan: Ivory roses mixed with white mini call lilies and white freesia tied with green ribbon for bride and all five maids. Her tent and table continued the white and green theme.
Fedelis selected all white flowers with pink accents. For her brides bouquet she chose single flower, white cymbidium orchids tinged with pink. Her bridesmaids held deep pink cymbdium orchid bouquets. The same deep pink orchid is also used on the wedding cake
Stella: All white flowers for bride with fuchsia for the bridesmaids. Stella's bride's bouquet is white roses, orchids, and freesia while the bridesmaids held pink cymbidium orchids clusters.
Jane held a full bouquet of blush roses, white tulips, star of Bethlehem, and gardenia. Her bridesmaids carried bouquets of red tulips, red berries, green orchids and green hydrangea for a festive holiday December wedding.
Malia: White roses, mini calla lilies, white cymbidium orchids, freesia, tuberose and seeded eucalyptus for wedding ceremony flowers: Bride and Groom - double tuberose leis for lei exchange
.......... .......... .......... .......... .......... .......... ..........

Blue Sky Weddings, Inc • 888 Front Street Lahaina Maui Hawaii 96761 • 800-362-6851 Toll Free • 808-283-8014 on Maui • e-mail: info@blueskyweddings.com