.......... .......... .......... .......... .......... .......... ..........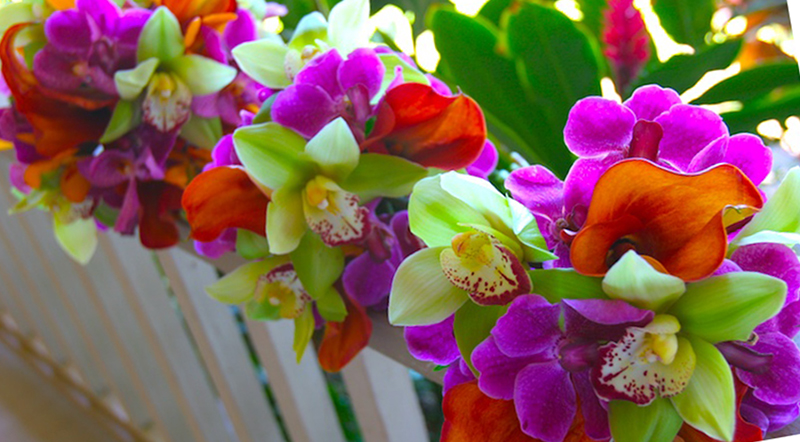 Maui Wedding Flowers: Colorful, bright, tropical tones for ceremony, celebrations and receptions
The use of colorful bright flowers goes so well with an outside wedding. When you are planning your Maui wedding, or any other island or outside wedding, consider using some vibrant flowers because the bright colors hold up so well in sunlight. My favorite bright and vibrant flowers for weddings are roses because they come in so many colors, deep pink and purple hydrangea, orange mini call lilies, and all shades of orchids.
Kelsey wanted all bright flowers, colorful and tropical. We combined green, orange and purple orchids with deep orange mini call lilies in her bouquets. A vibrant orange ribbon was used on each bouquet. The same colors were used on the tables over tangerine runners. Small orange orchids were used in the napkins
Michelle: Lots of colorful roses, purple hydrangea and freesia tied with bright pink and orange ribbon for her Maui wedding. Her brides bouquet was a mix of apricot, bright orange, pink shades, purple and green.
Hannah: Brides bouquet, tables, and aisle flowers are bright pink, purple and green. The wedding planned around the use of pink and green roses, purple tulips and citron green orchids throughout.
Sandi: For Sandi's wedding we planned a collection of jewel toned flowers in a mix of bright colors. Green cymbidium orchids, orange mini calla lilies, vibrant deep pink roses, orange roses, purple hydrangea, pink casa blanca lilies and yellow macara orchids made up her Maui wedding flowers and brides bouquets. Her bridesmaids carried jewel toned magenta roses.
Chrysta: For her tented reception the tables and poles where draped with pink, orange and purple flowers. The brides bouquet was deep orange roses, orange tulips, deep pink mini calla lilies and purple hydrangea. The bridesmaids each carried one of the variety of flowers in her bouquet, solid red roses, solid orange tulips, solid purple hydrangea and deep pink mini calla lilies of the maid of honor.
Heather: Lavender, purple and yellow mini calla lilies, dark red roses, lavender tulips, dark purple flowers and lavender stock and shells make up this wonderful brides bouquet. The bridesmaids carried the same but smaller bouquet. The tables each had a different local Maui flower in a glass vase. The wedding had a bright tropical Maui feel.
Sabina: Bridal flowers, white cymbidium orchids, wax, pink spray roses, green orchids, pink mini calla lilies and seeded eucalyptus

Blue Sky Weddings, Inc • 888 Front Street Lahaina Maui Hawaii 96761 • 800-362-6851 Toll Free • 808-283-8014 on Maui • e-mail: info@blueskyweddings.com